Review of Spark Toro: A Market Intelligence Accelerator
In my previous post, I discussed ten useful resources for Marketers to conduct digital marketing research. I will be continuing the research theme in this post, where I will be reviewing Spark Toro, a platform developed by a market intelligence company co-founded by Rand Fishkin and Casey Hendry.
Those of you in the SEO world will recognize Fishkin from his time at Moz, formally SEOMoz. Fishkin was the Co-Founder and CEO of Moz until he announced his departure in 2018. Since leaving Moz, he has been busy developing Spark Toro with Hendry.
Before I jump into my review of Spark Toro, I wanted to share my own experience of market intelligence processes and the practical application of market intelligence data in a content and influencer marketing strategy. This will provide a benchmark for assessing the pros and cons of automating market intelligence research through Spark Toro.
Let's get started.  
What is Market Intelligence?
In digital marketing, market intelligence is behavioural and engagement data that is used to inform content marketing, paid media, social media and influencer marketing campaigns.
Typical processes for gathering market intelligence include:
Surveying customers
Analysing CRM customer data
Extracting customer data via social media platforms
Data from Analytics and other tools
Feedback from sales teams
Building market intelligence helps define influencers, digital platforms and social media accounts that resonate with a target audience.
How Do Marketers Typically Collect and Use Market Intelligence?
Every Marketer will have a different approach, depending on their campaign goal and strategy. I'll run through a quick example from a project that I led during my time at Digital Skills Academy (DSA).   
At DSA, I developed a content marketing and influencer marketing strategy which included market intelligence about its digital marketing customer segment.
The market intelligence process involved surveying customers and using tools like Followerwonk and SEMRush to build lists of influencers and websites that resonated with DSA customers. The research identified The Irish Times as a website and Rand Fishkin (yes that Rand!) as an influencer that the DSA audience engaged with on a regular basis. After identifying the key influences and influencers, a content plan and outreach strategy was developed.
The plan was rolled and finally the article featuring Rand Fishkin and a DSA lecturer was published in The Irish Times. This was just one of the articles within the campaign which made a good return on investment for DSA.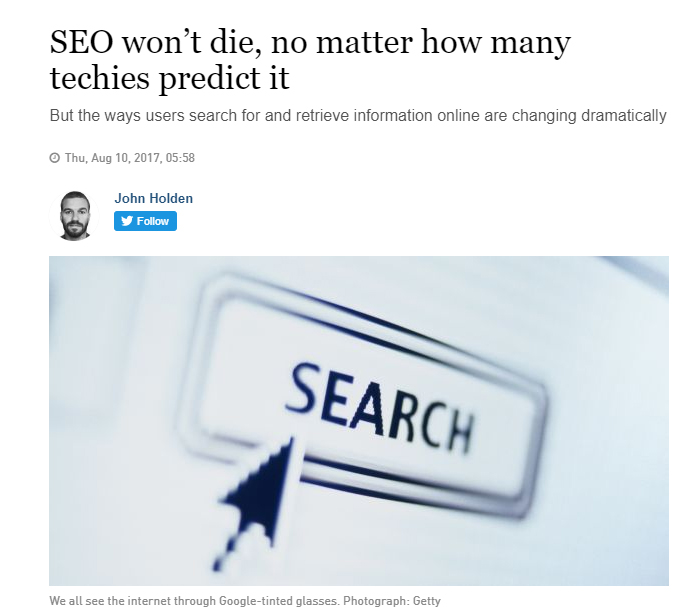 As you can see, it was quite a long process from start to finish. The Dataset used in that campaign was reliable but the process to collect the data was slow and manual. It is for this reason, that Spark Toro could potentially be a game-changer for Marketers looking to accelerate their market intelligence research. Let's get stuck into the review to find out.
What is Spark Toro?
Spark Toro is a platform that provides users with insights into consumer engagement with websites, social media, podcasts and YouTube accounts.
How Does Spark Toro Work?
The platform pulls data from individual's profiles and behaviors to report on the popularity of websites, social media accounts, podcasts and YouTube channels with a target audience.  
Let's look at the main features of Spark Toro
Audience Intelligence
For this audience intelligence demo, imagine that I want to promote my product to the digital marketing community in the U.S. As a starting point, I need to identify key influencers, websites, podcasts and YouTube channels to partner with on content projects and paid partnerships.

Selecting the phrase 'digital marketing' and 'United States of America' activated the platform. In the background Spark Toro indexed the profiles and behaviors of the digital marketing community across the U.S.

After a couple seconds, Spark Toro provided me with results. The results indicated that there was a pool of 39K profiles (that seemed small to me!) who frequently talked about digital marketing in the U.S. According to Spark Toro, the dataset was highly accurate based upon audience size and behavior similarity.
Let's have a look at some of the other results.

Social Account results indicated that a high percentage of the audience engaged with Hubspot, Moz and Ann Handey. From my knowledge of the digital marketing industry, that data seemed accurate.

The platform provided me with additional information about the profiles, social media accounts and aggregate number of social media followers.
This section of Spark Toro looks useful for planning influencer marketing strategies and interest targeting in paid media.

Do you remember earlier I mentioned Rand Fishkin was identified as a key digital marketing influencer in the market intelligence research I conducted for DSA in 2017? Fishkin featured number six position as a digital marketing influencer on Spark Toro…interesting!

A secondary listing of social media results listed 'Hidden Get Social Accounts'. According to Spark Toro, the Hidden Gem Social Accounts are profiles that have strong engagement but are not mainstream.

The Website Visited and Shared section included searchengineland.com, searchenginejournal.com and moz.com.
I dug deeper into the website data and found more information about each website, backlink profiles and domain authority. This data would be particularity useful for planning content marketing and SEO campaigns. This website list could also be integrated into display marketing and paid media interest targeting strategies.


The 'Hidden Gem Websites' section included websites that had good engagement and visits but were not mainstream.  

The next section, Podcast Followers and Shared, contained a list of podcasts that the audience followed and shares. The top three included eMarketer, Search Engine Journal Show and Search Talk Live.

A deeper dive into the data revealed more about the podcasts, numbers of episodes and the date of the last podcast. This information would be useful for content and influencer marketing and sponsorship strategies.

The YouTube Channels section included Hubspot, Google Analytics and Search Engine Land.
Further information on the profiles, number of subscribers and average number of views for each channel was provided. This data is useful to build a list of target channels for content marketing and influencer marketing campaigns.

Audience Insights provides further information on the city-level location and keywords used by the profiles. This data could help marketers identify clusters of potential customers for their products and services.
Compare Audiences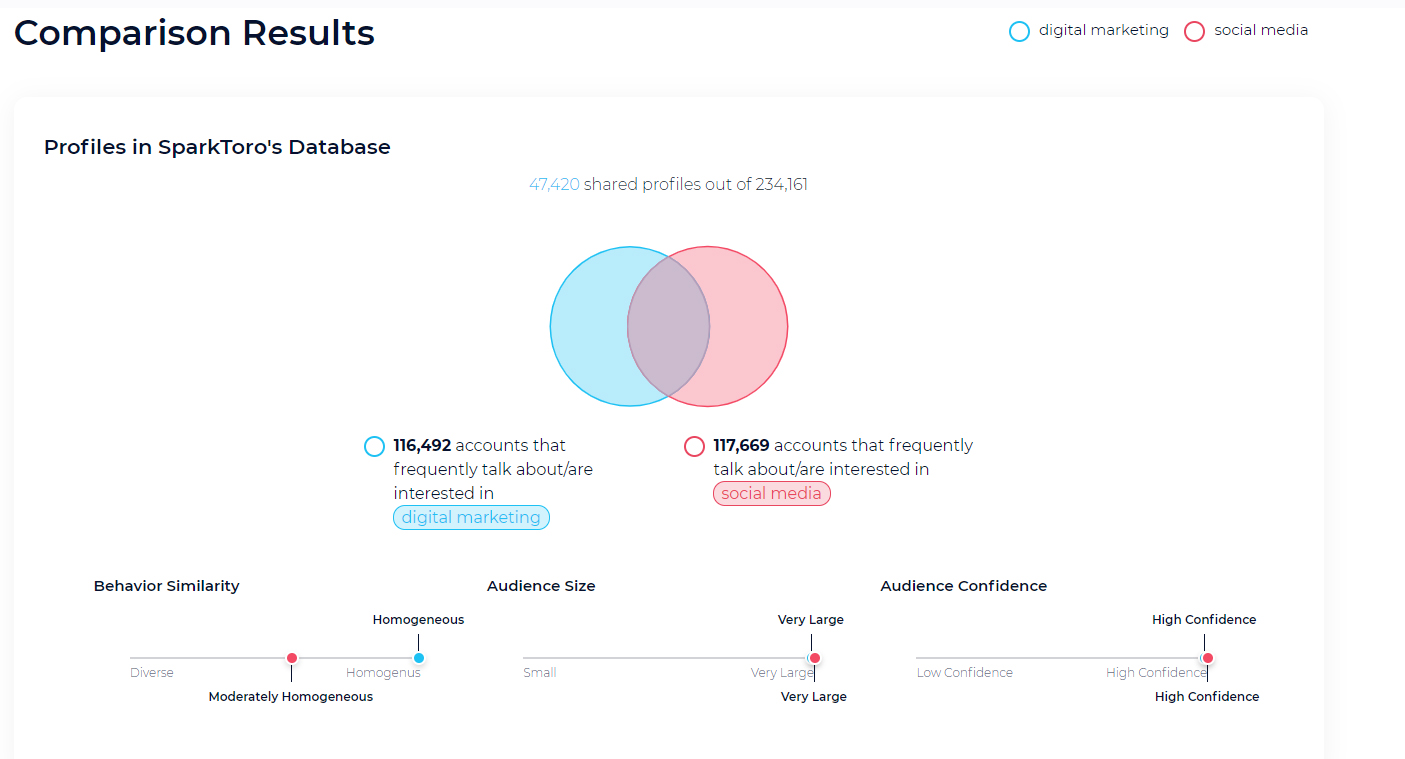 The Compare Audience feature was interesting to see how different profiles share websites, social media accounts and podcasts interests. This feature could be useful for expanding audience size or excluding audiences altogether from campaigns.  
Comparing your brands audiences with your competitors could also provide you with useful insights about potential new audiences to target.
Profile Search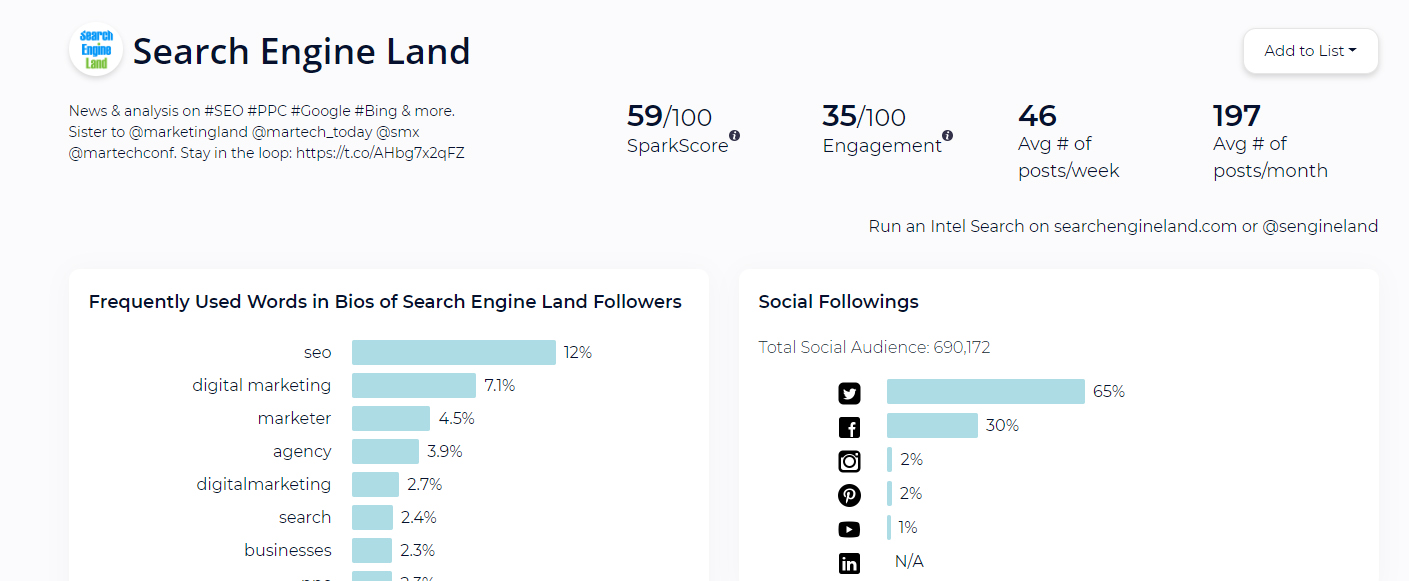 The Profile Search feature of Spark Toro runs an analysis of social profiles and websites. For this demo I ran a search on Search Engine Land. The report provided me with a wealth of information about Search Engine Land and their community of influence. The SparkScore, engagement and average posts published reflected the popularity of Search Engine Land.
The Frequently Used Words in Bios of Search Engine Land Followers feature analysed the social media bios of the Search Engine Land community. This data could be useful to generate hashtags that resonate with a community.
The Social Following feature displays the most popular social media accounts of the brand. This information could help in deciding which channels are most important for a community.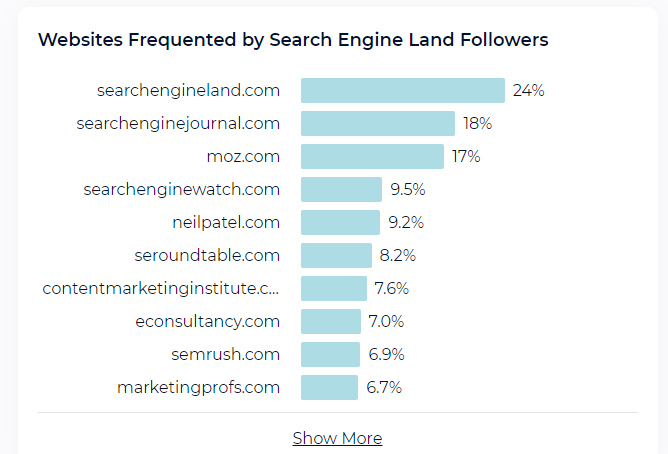 The Websites Frequented by Search Engine Land Followers displayed a list of websites that the Search Engine Land community visits. This data feature could help marketers scale their content marketing and influencer marketing campaigns by growing the database of target websites and brands.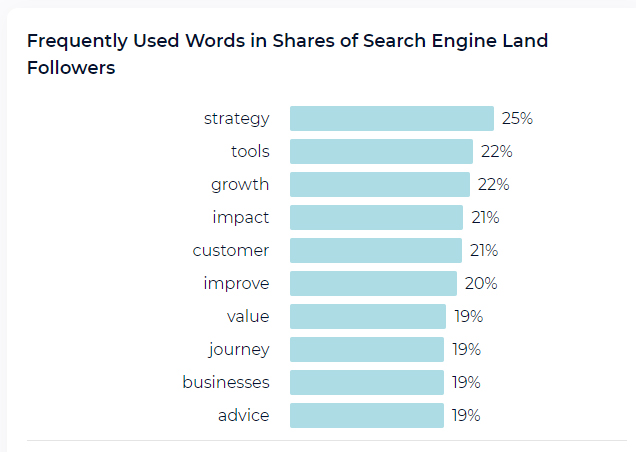 The Frequently Used Words in Shares of Search Engine Land Followers contained a list of shared keywords. The data within this feature could be useful for positioning and communicating campaign messaging. Knowing that certain words resonate with an audience could help marketers develop targeted messaging.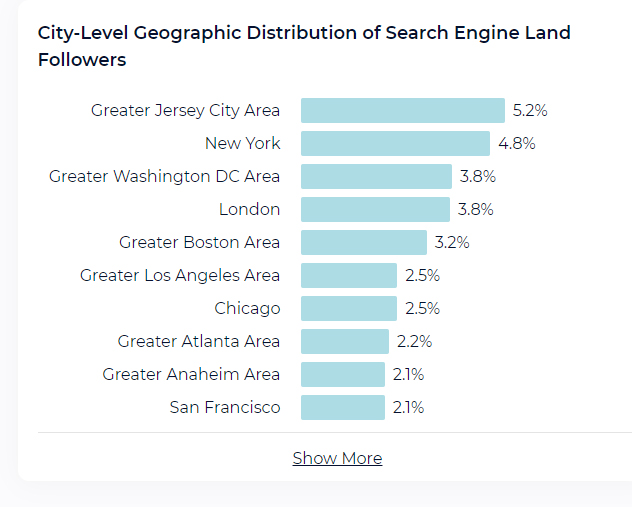 The City Level Geographic Distribution report shows where a brands community is located. This information could be useful in geo-targeting digital marketing campaigns and events.
How Much Does Spark Toro Cost?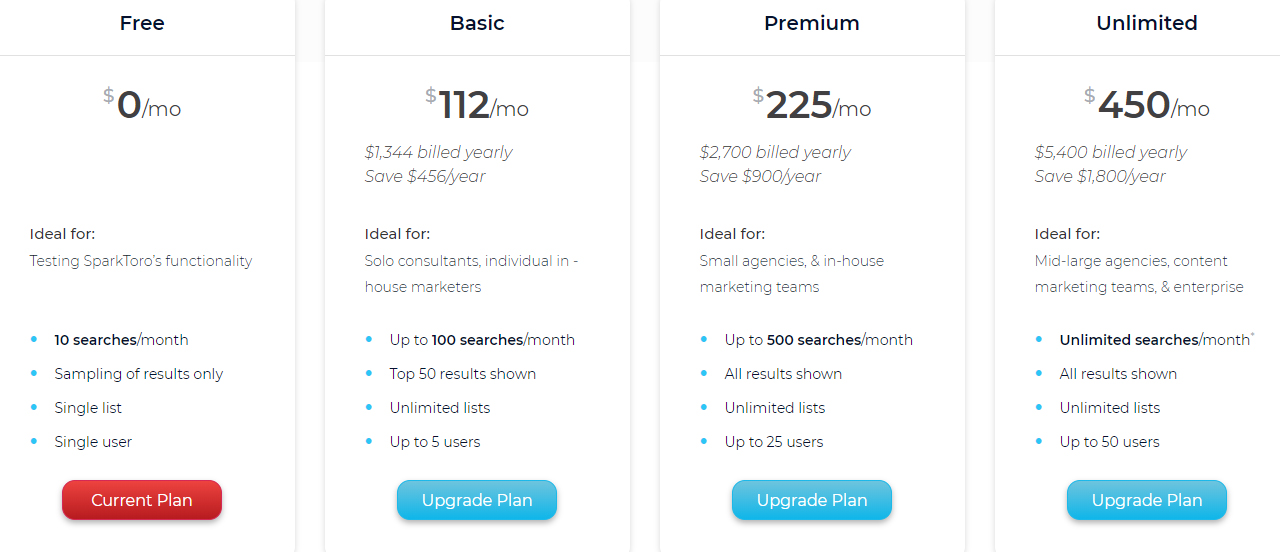 Spark Toro isn't cheap. The free version allows 10 searches per month. While the paid version has three packages, $112 per month, $225 per month and $450 per month. Users can save 25% off the cost of the subscription when paying upfront for 12-months. The pricing seem pitched at digital marketing consultants and agencies. Agencies with multiple clients and tight deadlines will get the most value out of the subscription options.   
Would I recommend Spark Toro?
Pros
1) Accelerate Market Intelligence Research
Having gone through other manual market intelligence research processes multiple times, I can see immense value in the speed and efficiency of Spark Toro. Fast-tracking market research will most definitely save you time, and therefore money.
2) Simply, Easy to Use and a User Friendly Experience
The developers have done an amazing job on producing a product that is simple, user friendly and unbelievably fast. Any Marketer, regardless of their technical knowledge, will be able to use the platform within minutes. The datasets produced by the platform are easily exported as CSV files.   
3) Scale Market Intelligence Research
There a number of features that can help scale market intelligence research. Lists, geo-targeting and audience comparisons are features that could help scale a campaign rapidly.
Cons
1) B2B-targeting Could Be Improved
The features for B2B-targeting could be improved. It would be interesting to see the platform generate datasets for LinkedIn Groups.  
2) Demographic Information
The platform doesn't contain the more granular demographic information that Marketers need to use in campaigns.
3) Cost
Spark Toro has been designed for a specific audience. The monthly subscription isn't cheap. Marketers will need to demonstrate the value and return on investment from Spark Toro to management.
Review Summary
Yes I would recommend Spark Toro. I would even go as far as saying that the platform will become one of the essential tool kits for Marketers alongside SEMRush, Buzzsumo, Moz etc.
That said, Spark Toro shouldn't replace but work alongside traditional market intelligence research strategies such as surveys. Spark Toro can help scale and accelerate market intelligence such as social media, influencer and website engagement but for more granular datasets, traditional methods of research should be deployed.
Agencies will significantly benefit from the platform by reducing the time and therefore cost of market intelligence research. Overall, an excellent platform that will help Marketers work efficiently and effectively on market intelligence research.